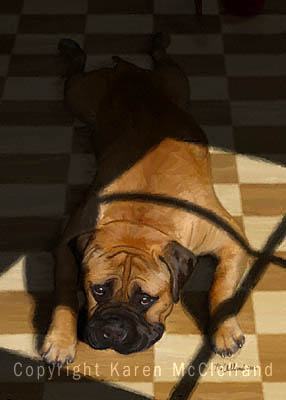 Bullmastiff dog print titled "Sunbathing Bully"
This Bullmastiff is really taking it easy basking in the sun. I love the expression with the eyes that they have, and really tried to capture that when creating this dog painting. Please see a close up below the edition information
Image size 10" x 14"

Edition size: 200

Artists proofs:

Copyright 4/03

Release date 6/03

Printed on: Canvas with UV protective coating

Hand signed and numbered by Artist with Certificate of Authenticity.
view sample COA

These canvas prints are attached to stretcher bars and are available either unframed or framed.
Print price:
Unframed $120.00
Framed $220.00
Shipping:
Unframed $10.80
Framed $19.80
All prices in U.S. dollars
Prints shipped USPS insured priority mail.
WA state residents please add 8.5% tax.

Three ways to purchase:

Online with Credit Card:



Mail check or money order specifiying "Sunbathing Bully" to:

Karen McClelland
14210 Dubuque Rd.
Snohomish, WA 98290-9711
USA

Or call me with your credit card information
425-334-2480

Close up of Bullmastiff dog picture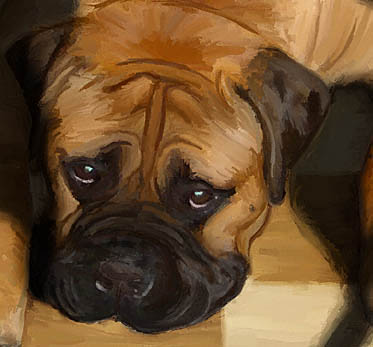 Paintings by Karen McClelland © 2001-2005, All rights reserved Copyright shall at all times remain vested in the Artist. No part of the work shall be used, reproduced, stored in a retrieval system, or transmitted in any form or by any means electronic, mechanical, photocopying, recording or otherwise, without the Artist's express written consent.
Main page | Sporting | Hounds | Working | Terriers | Toy Dogs | Non-Sporting | Herding | Links | Artist Info | Contact
If you are interested in hearing when new prints are released, or upcoming contests -- please sign up here.
Privacy Policy
Contact information received on entry forms is not shared with any other parties.
Dog paintings by Karen McClelland © 2001-2005, All rights reserved Copyright shall at all times remain vested in the Artist. No part of the work shall be used, reproduced, stored in a retrieval system, or transmitted in any form or by any means electronic, mechanical, photocopying, recording or otherwise, without the Artist's express written consent.